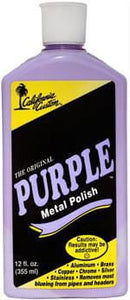 Purple Metal Polish is a no-rub aircraft aluminum polish
When you see just how easy it actually is to polish aluminum, chrome, brass and even plastic, you will be totally amazed!  Specially formulated for easy use and  Durability.
SUPER HIGH QUALITY SHINE. It is a SUPER QUICK and EASY maintenance product. Purple Metal Polish contains a superior abrasive along with Hi-tech cleaners and sealers to SAFELY CLEAN, SHINE and PROTECT all metal surfaces WITHOUT SCRATCHING!
When using this aircraft aluminum polish on metal, DON'T use it like you would an average metal polish. This is completely different. See just how little rubbing it really does take to achieve a shine. Once applied, fold a clean terry cloth towel and (DON'T RUB!) buff off, wet or dry, to a brilliant CLOUD FREE SHINE!