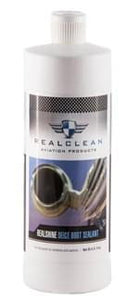 Real Shine Boot Sealant is the ultimate aircraft deice boot sealant.
Real Shine Aviation Sealant offers unmatched durability with a high gloss finish while protecting deice boots from dry rot, fading, elements and cracking.
High Gloss Shine
Conditions boots to prevent drying
Protects against UV rays that crack and damage boots
Use "Real Shine" Deice Boot Sealant with our  "Real Shine" Deice Boot Prep or purchase together in our Deice Boot Revitalization System.

Directions:
Prep boots with Real Shine Prep.
 Shake well and apply products liberally to clean sponge or folded terry cloth.
Begin at one end of boot and apply to surface using long overlapping strokes, in the same direction.
Allow 5 minutes of trying between coats. Recommended 3 coats per boot.
A Tip from the Pros-
For best results when using this product, fold terry cloth into 8ths creating a small thick rectangle. Soak the first inch of rounded edge with product and apply to boot.