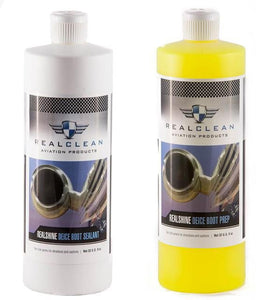 Keep your de-ice boots looking their best with the Real Shine Pneumatic Deicing Boot Revitalization System!
Our easy to use 2 step system will prep boot surface and seal for protection.
Real Shine Pneumatic Deice Boot Prep is easy to use and will completely strip and clean the boot surface to reveal a clean bare surface.
Real Shine Pneumatic Deice Boot Sealant offers an unmatched high-gloss shine while conditioning pneumatic deice boots to prevent drying and cracking. Real Shine De-Ice Boot Sealant also protects boots from harmful UV Rays which over time will damage the boots.